Welcome To Ashigawa "Yasuragi no Sato" WEB site !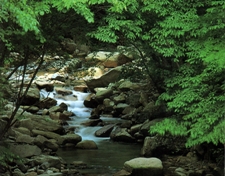 Ashigawa "Yasuragi no Sato" is a public lodging facility near Ashigawa River, in the Oshuku section of Ashigawa Town, Yamanashi Prefecture.
Yasuragi no Sato can be your hub location for taking walks, trekking, climbing mountains, fishing, touring, or other activities in this rich natural environment. Guests riding motorcycles or bicycles will appreciate our covered parking lot.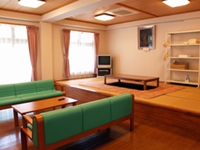 Facilies
Facility has six rooms about 9.9 square meters (106 square feet) in size. Each room has its own kitchen, refrigerator, and half bath.
Common-use areas are the dining area, lounge, and shower.
Guests prepare their own meals.
We provide cooking utensils and tableware.
There are induction cooktops big enough for heating two items.
Rates
| Service | Per night/day | Category | Rate |
| --- | --- | --- | --- |
| Overnight stay | One night | Adult | 2,400yen |
| Overnight stay | One night | High school student | 1,700yen |
| Overnight stay | One night | Elementary/middle school student | 1,200yen |
| Overnight stay | One night | Preschool child (3 yrs or older) | 800yen |
| Day use | One day | Anyone other than preschool child | 500yen |
Overnight stay is from 4:00 p.m. to 10:00 a.m. the following day.
Day use is from 10 a.m. to 4 p.m. the same day.
For an extra 500yen, overnight guests may enjoy a more relaxed stay by checking in earlier than 4:00 p.m. and checking out later than 10:00 a.m.
Notes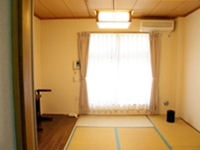 Please call us by 1 week before your stay, if you need change or cancel your reservation .
Appliances using flame (such as a gas burner) may be used only in the cooking area.
This is a no-smoking facility. If you want to smoke, you must use the designated smoking area.
Reservations
Please contact us by telephone or email.
Landline: 055-298-2081 Cellphone: 090-5817-8210
Email: sooichiro1215@docomo.ne.jp

Tell us the desired date(s), number of people, and how we can contact you.
Let us know if you want to use nearby sports facilities.
We use your personal information only as needed to serve you. We never disclose or provide such information to third parties except when required to do so by law.