Welcome To Ashigawa Green Lodge WEB site !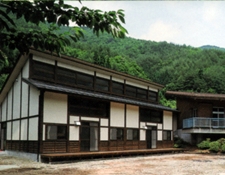 Ashigawa Green Lodge is a public lodging facility near a tributary of Ashigawa River, in the Oshuku section of Ashigawa Town, Yamanashi Prefecture. Our great-outdoors location is a tourism area not far from Lake Kawaguchi, and suited to a variety of activities that visitors can experience in a natural setting with rivers, mountains, and fields.
The Green Lodge can be your hub location for taking walks, trekking, climbing mountains, fishing, or other activities in the bosom of nature. One-day barbecues are also popular.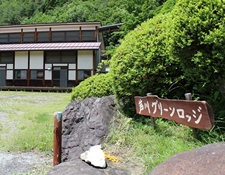 Facilities
Common-use facilities: Cooking area, showers, rest rooms, dining area.
Guests prepare their own meals.
We provide cooking utensils and tablewear. There is also a refrigerator for common use.
Propane burners are available.
Rates
| Service | Per night/day | Category | Rate |
| --- | --- | --- | --- |
| Overnight stay | One night | Adult | 1,200yen |
| Overnight stay | One night | High school student | 900yen |
| Overnight stay | One night | Elementary/middle school student | 600yen |
| Overnight stay | One night | Preschool child (3 yrs or older) | 400yen |
| Day use | One day | Anyone other than preschool child | 400yen |
Overnight stay is from 4:00 p.m. to 10:00 a.m. the following day.
Day use is from 10 a.m. to 4 p.m. the same day.
For an extra 400yen, overnight guests may enjoy a more relaxed stay by checking in earlier than 4:00 p.m. and checking out later than 10:00 a.m.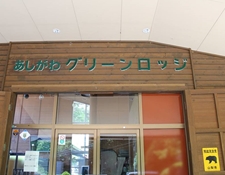 Notes
Please call us by 1 week before your stay, if you need change or cancel your reservation .
Appliances using flame (such as a gas burner) may be used only in the cooking area.
This is a no-smoking facility. If you want to smoke, you must use the designated smoking area.
Reservations
Please contact us by telephone or email.
Landline: 055-298-2081 Cellphone: 090-5817-8210
Email: sooichiro1215@docomo.ne.jp

Tell us the desired date(s), number of people, and how we can contact you.
Let us know if you want to use nearby sports facilities.
We use your personal information only as needed to serve you. We never disclose or provide such information to third parties except when required to do so by law.